JIVY GROUP celebrated 10 years of perfect FIT: Fun, Innovation, Tech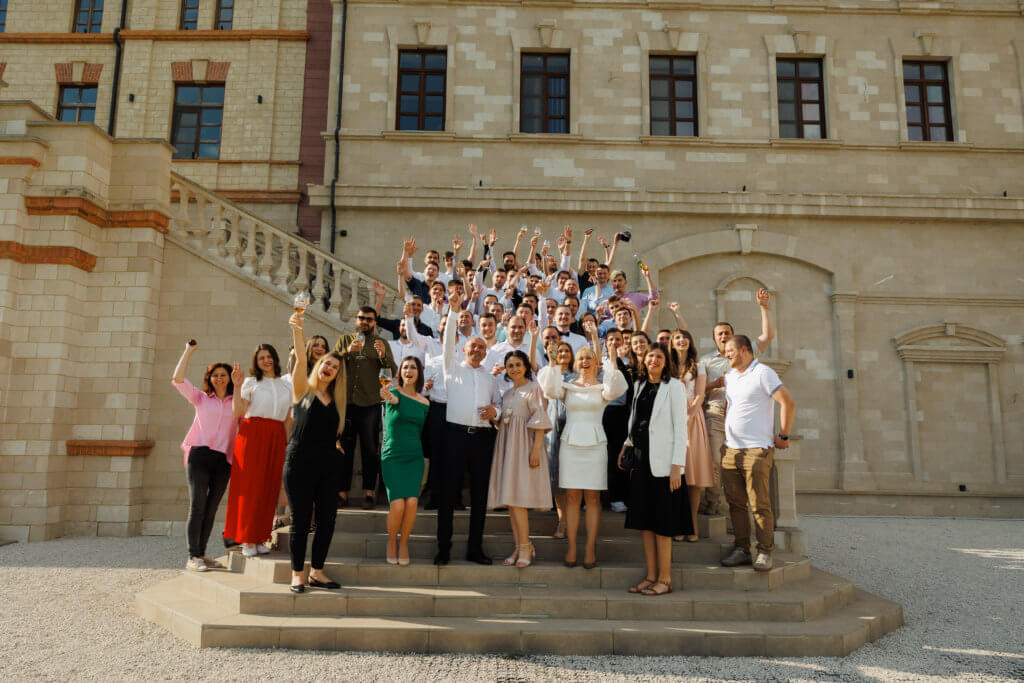 This June is very special for JIVY GROUP, as we enjoyed a big party, featuring the Eurovision legends "Zdob si Zdub" and the famous folk punk band "Lupii lui Alex Calancea".
JIVY GROUP celebrated ten years of successful activity by hosting an exclusive, private party for employees, partners and clients. Company's private Epic Decennial Party was feasted in a gala format. The entertainment featured a private concert by "Lupii lui Alex Calancea" and then by "Zdob si Zdub", including the famous song "Little Train" – currently the second song the most loved in Europe.
It's a decade filled with incredible memories and achievements – what a ride it's been! 
After the pandemic challenges of 2020, Revenues YOY increased by 61% in 2021. Going forward, we have big plans to accelerate the export's growth of top-class quality services to leading international companies worldwide. A big round of applause to our talented team – for hard work and unconditional dedication. Congratulations to all Jivyans for being a part of JIVY GROUP!
How the Jivy Group story began
Ten years ago, the company was founded by Vladislav Harcel – CEO with just five employees. The first mission of Jivyans was to develop sophisticated solutions for our partner from Israel – solutions that are used by a large number of customers around the world. To accomplish this mission, at that time we all got together every day in the office to brainstorm on new software products or features that elevated our company and its coding practices and shaped it into a robust delivery center staffed with talented coders. This partnership is one of the long-term contract based collaborations, for which we ramped up a development team formed only by seniors.
Jivy Group: Then and Now
By June 2022, we had built a growing team of over 70 software engineers with extensive experience in nearly all popular web and software technologies, such as JavaScript (React.js, Node.js, Typescript and Angular), mobile technologies, but also .Net, Java, Python, etc.
Over the years, we've delivered more than 20 projects and worked with major companies in the Financial Industry, e-Commerce, FinTech, Education, Banking, Gaming, Cryptocurrency, Big Data and many more.
Our Success Secret – Passion for IT & Quality
50% of our staff are developers. Our team is tech versatile and experienced in working directly for global leaders in: Japan, Israel, US, UK, Europe, Australia. Aproximately 25% of our developers have more than 5 years of experience, and 40% – have over 10 years of experience.
To sustain the high growth rate and keep up with the trends, we promote a variety of learning opportunities to advance the professional success of our team.
We host periodic meetups covering the latest trends and technologies;

We encourage our team to share experiences on various ongoing projects and assist with tricky situations;

We offer internships to all self-directed IT Interns with a passion for technology, collaboration, and creative problem-solving attitude.
All our engineering profiles are agile-trained and English-speaking. 
Our Look into the Next Decade
As we count the blessings of a smart, close-knit team, a supportive work environment and a range of great partners, we're also planning our next steps. We'll continue delivering state-of-the-art technology services and supporting our clients to develop their own organizations by:
using scalable Agile solutions;

integrating perfectly with our client's teams;

catalyzing ideas;

delivering robust solutions.
With a wide range of services, including: development, design, delivery of custom software solutions, IT consulting, IT outsourcing we've registered a bold increase in Staff YOY of 65% in 2021 and we'll continue to expand our teams.
Our mission at JIVY GROUP is to help the clients to become digital companies. We support them in their journey from generating ideas to developing and implementing software products, platforms and solutions and we're always looking for talented colleagues to join us.
Check out the available job vacancies.
Of course, we'd like to meet you in person, at our new office located on an ultra-centered address in Chisinau. We put value on similar values and the desire to innovate.
But now, because we are many not only in numbers but also in skills and creativity, all the congratulations are addressed to all our colleagues at JIVY GROUP for success and accomplishments!